In Memory
Cheryl Bryant (Jackson) VIEW PROFILE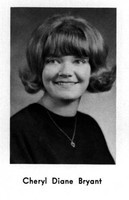 CHERYL BRYANT JACKSON
August 7, 1948 to April 1, 2012
(There is no public obituary) The following was written, by her dear friend and classmate, Cheryl Bailey Ortega:

"Cheryl Bryant. I vaguely remember her in high school. I later learned she had transferred in during our junior or senior year. Then, through circumstances only God can plan, we became acquainted. Cheri (the name she chose to be called) had been through two battles with cancer, and then lost a kidney to infection. She survived because of her faith in God and the healing hands of Jesus. The Holy Spirit guided her. She read the Bible and spent hours every day in prayer. Together we prayed for people who needed physical, emotional or spiritual help. When she was physically able, she would visit people in the nursing homes and pray with them, offering comfort and hope. Unable to work, she lived with the minimal income of Supplemental Security. Often she could barely make the rent payment and buy some of the necessary medications. Food was a luxury, and her body would resist most of it anyway. She loved animals, and had at one time 8 cats and her chihuahua. She was artistic and did some painting. When able, she attended Covenant Christian Church. A true Prayer Warrior, she watched Benny Hinn, John Hagee, and TBN faithfully. Always putting the well-being of others before herself. She is now at home, peaceful, and utterly happy with the One she loved most."
The following was added by her loving aunt, June Brown:
I must also add,our family had a prayer chain going for her through all her cancer treatments. her uncle was a paster and he spent many hours with her.I took her to her treatments and spent days with her.she was very sweet. She will always be missed and loved.always in our hearts.RIP MY LITTLE ONE.
Click here to see Cheryl's last Profile entry.