In Memory
Joanne Cimmiyotti (Roberts) VIEW PROFILE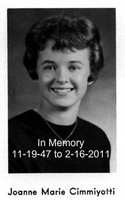 Joanne Marie Cimmiyotti Roberts
11-19-47 to 2-16-2011
Born in The Dalles, Oregon on November 19, 1947, Joanne was the oldest of four children born to Merle & Rosemary Cimmiyotti. She grew up in Lyle, Washington with stops along the way in Glenwood, Washington and Encino, California, before returning to The Dalles, where Joanne graduated from high school in 1966.
Joanne attended Oregon State University from 1966 to 1968 majoring in home economics and was a member of the Oregon State rifle team. While at Oregon State she met Ron Roberts and they were married on June 21, 1969 in The Dalles.
Ron & Joanne moved to Juneau, Alaska to open a sporting goods store. While in Juneau the Roberts met John & Betty Wyatt at the Juneau Church of Christ where Bob Waldron was ministering and both were soon converted.
In 1971 the Roberts moved to Denver for Ron to attend Bear Valley School of Preaching while Joanne worked as a bank teller. They adopted their first son, Ken, in Denver before moving to Tomball, Texas in 1974.
Two more sons, Jeff and Don, were adopted in Tomball where sons Ben and Tim were also born. Joanne was active in the Mothers' Day Out program as well as the church Joy Bus ministry, summer camps and Vacation Bible School. Joanne made many dear friends there and left a deep impression on the church community.
Ron & Joanne moved back to Denver for two years in 1981 while Ron completed missions preparation training before relocating in Santiago, Chile. Joanne served faithfully in the church and was loved and respected as a trusted Christian example for the women in the church and on the mission team.
Joanne loved her home in Chile and with her adventurous spirit, traveled on many family trips and served as chauffer and cheerleader to endless school, scouting and sports events for her five sons. She grew proficient in Spanish and her wisdom and teaching in women's groups there were vital to the mission team effort.
In 1989 the family returned to the States, settling in Vancouver, Washington. Joanne's empathy and steady composure while the boys transitioned, sometimes roughly, to life back in the States was a pillar for her family. Joanne began work for Clark County Health Department in 1990 and worked there for 21 years. She is remembered as a diligent, dependable, and beloved worker.
Joanne picked up where she left off in Chile with faithful attendance to all her sons' many sporting activities and school events. She was extremely active as a member of the Vancouver Church of Christ, helping to lead Alpha groups, teach Bible classes, build homes in Mexico, and many other activities. Joanne was a mentor and loved friend to many of the family in Vancouver.
Joanne was preceded in death by her father, Merle Cimmiyotti. She is survived by her mother Rosemary Fiedler of Tacoma, Washington. Joanne leaves behind her husband of 41 years, Ron, and five children: Ken Roberts of Los Angeles, Jeff Roberts of Portland, Oregon, Don Roberts of Campo Grange, Brazil, Ben Roberts of Niteroi, Brazil, and Tim Roberts of Santa Rosa Beach, Florida, along with five grandchildren and one more on the way. Joanne is survived by her brothers Robert Cimmiyotti of Mendocino, California, Dean Cimmiyotti of Eagle River, Alaska, sister Norma Bennett of St. Marie's, Idaho, and five nieces and six nephews.
Joanne's life was one selflessly lived serving others. She had a passion for Christ and was committed to bringing His love to the world around her. She was steadfast in her belief and commitment that her children know the God she served.
Joanne loved being a mother. She treasured and was very proud of each of her grandchildren. Joanne was a gracious hostess, opening her home and heart to many who eventually became part of her extended family. She loved to garden and hike with Ron. She tolerated the television in her home being tuned to sporting events year-round for over thirty years. As the only woman in a home of six men, Joanne was the rock of the family. She was devoted to Ron and followed his dreams and work literally all over the world. In the midst of a tragic illness Joanne faced her final days with courage and serenity, telling her children that she had been "extraordinarily blessed."
Joanne blessed the lives of those around her and will be fondly remembered and deeply missed.
Click here to see Joanne's last Profile entry.