In Memory
Susan McClard (Brewer)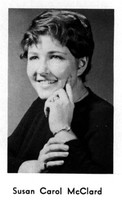 Susan C. "Sue" Brewer
April 12, 1948 - March 20, 2013
Susan C. "Sue" Brewer, 64, a resident of The Dalles, Ore., died at a Portland hospital Wednesday, March 20, 2013. She was born April 12, 1948, the youngest of three girls to Jack and Zaida (Tash) McClard. She was raised and educated in The Dalles, graduating from The Dalles High School in 1966. She then attended Portland State University.
On April 21, 1968, she and Jerry Brewer were married in The Dalles. She was actively involved with the Commission on Children and Families, the YouthThink Coalition, Youth Respite Care and the Methodist Church Youth Group. She enjoyed spending time with family, gardening, the outdoors, reading, cooking and baking with grandchildren.
She is survived by her husband Jerry Brewer, The Dalles, Ore.; and daughters Jennifer Allinger and her husband Chris, North Bonneville, Wash.; and Annette Moeller and her husband Mark, Wallowa, Ore.; her sister Pat Oliver and her husband John, Vancouver, Wash.; brother-in-law Joe Hill, Wasilla, Alaska; sister-in-law Debi Spencer, The Dalles; sister-in-law Sharon Day and husband Jim, The Dalles, Ore.; granddaughters Ella and Sophie Moeller, and numerous nieces, nephews and cousins. She was preceded in death by her parents Jack and Zaida McClard; sister Nancy Hill; brother-in-law Bill Spencer, and great-nephew Jason Hannah. Funeral service will be Monday, March 25, at 1 p.m. at Spencer, Libby and Powell Funeral Home with Pastor Gerald Ward officiating. Interment will follow at the I.O.O.F. 18th Street Cemetery.